The BOTT XR1R was shipped from Spain to Denver some days before Jose Manuel Orge (my trusted mechanic to work on the bike in Pikes Peak) and me arrived to the USA.
The plan was that the bike would arrive before us to Travis Newbold's workshop in Denver. However, when we arrived there the bike was still "in transit" according to the UPS website.
We still had some days before the first test weekend in Pikes Peak, so we didn't worry too much, thinking that the bike would arrive on time. But, after contacting UPS we discovered that due to some kind of "error" by their side, the bike had been (and still was) several days stopped in New York. From there it still had to go to Chicago, then to Denver, then it had to go through customs.. now it was clear that we were not going to have the bike on time for the first tests in Pikes Peak.
What a disappointment. Our adventure in the USA was having a bad start. It was very important to start testing as soon as possible in Pikes Peak, for many reasons. Mainly to check how the engine was behaving in high altitude, and of course also because Travis needed to ride as many miles as possible with the XR1R in the mountain.
Without having our XR1R, we decided to test with one of Travis bikes, a Suzuki SV 650 that he had prepared to race on tracks. In this way, at least Travis could refresh the track in his mind, and for us it would be good to have a first contact with the course and the crazy practice timetables.
So, we loaded the SV in Travis van and we headed towards Pikes Peak, which is a two hours drive from Denver.
The first thing we did when we arrived was to run up the mountain with our rental car, through the same road of the race. The course is impressive, it doesn't matter how many videos you have seen in Youtube, you must be there to understand the magnitude of this race. If you are a motorsport fan, this is one of those places that you should visit at least once in your lifetime.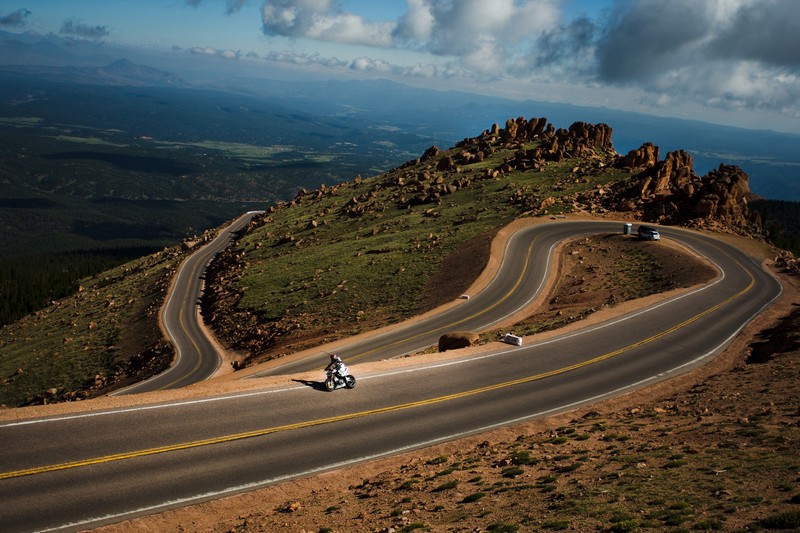 The first day we practiced the medium and top sections (both together). Practices in Pikes Peak are quite particular because during the day the road is open to the tourists, so the practices take place before the road is open, from 5 am (just with the sunrise) to around 8 am. This means that it is necessary to wake up around 3 am. Of course at that time, at around 3000/4000 meters (10000/14000 feet) of altitude, normally it is quite cold. It is hard for everyone, but mostly for the riders, because the ambient temperature is cold and many times the asphalt is (literally) frozen.
That day Travis did several runs with his Suzuki, and next day we practice the lower section. The practices were good for Travis, but in general it was a frustrating weekend because we couldn't practice with our BOTT XR1R.
We came back to Denver, and we still had to wait for a few days until we finally received the bike.
One of the first things we did was to take it to the dyno of Imperial Motorcycles. There we tested several different kinds of fuel and we also recorded some data that later on would be quite useful to work with the engine mapping.
Since we couldn't test in Pikes Peak, on Saturday we organized a test in "Pueblo Motorsports Park", a track located in Pueblo, Colorado.
The test was good because we found a couple of problems that we solved. It was a very hot day, so it was a hard test for both the bike and Travis.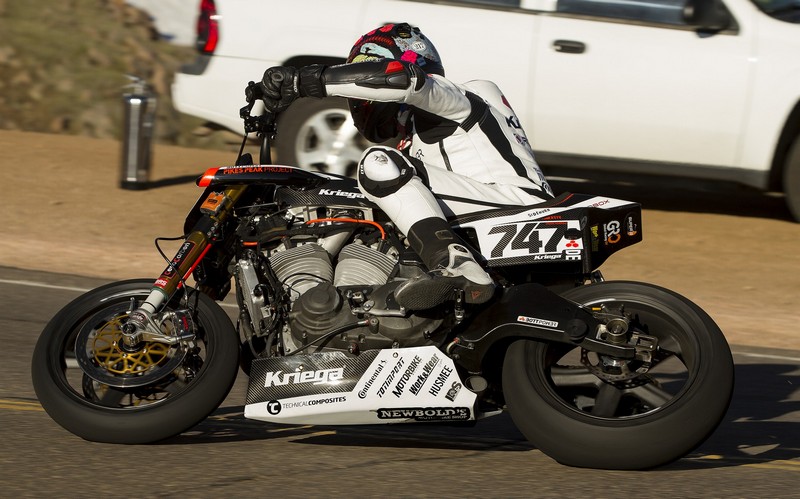 We finished the test doing again another fuel consumption test (in the same way that we did in our latest test in Valencia). We filled the fuel tanks and then asked Travis to ride the bike until it run out of fuel. As it happened in Valencia, the bike covered the race distance before starting failing. That meant that in principle we shouldn't have fuel capacity problems in Pikes Peak, because due to the lack of oxygen, in the mountain the bike would run more lean (it would consume less fuel) than at a normal altitude.
Saturday afternoon we went back to Denver, and on Sunday the guys of Ranco (a CNC workshop owned by Travis friends) still had time to machine a cool part to improve the throttle bodies clamping. They worked super fast and did a great job.
On Monday 19th of June we went again towards Pikes Peak. We did the race inscription and then the bike passed the technical scrutiny. We were ready for some action!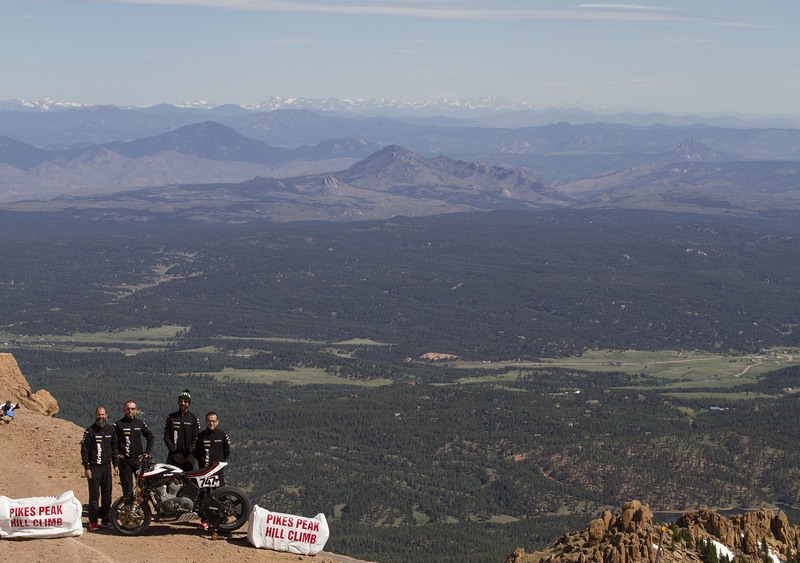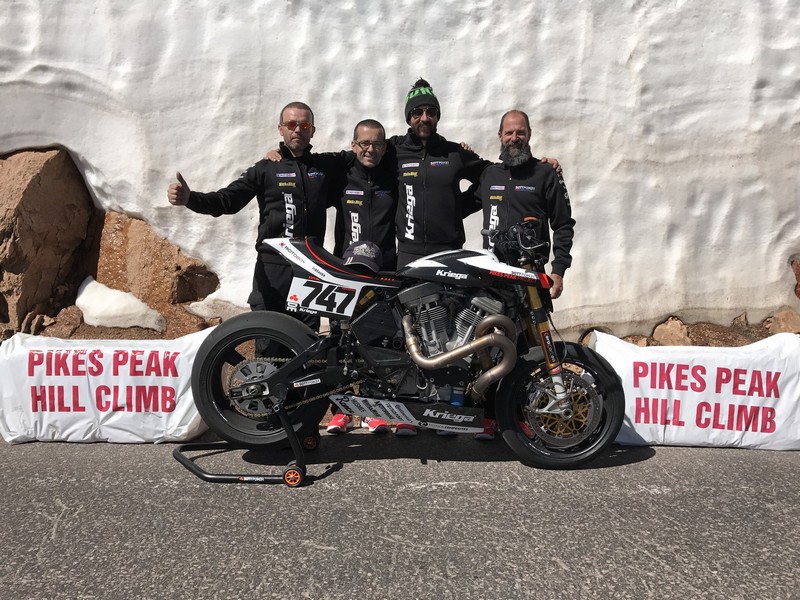 On Tuesday (finally!) Travis rode for the first time in Pikes Peak with the XR1R. Both on Tuesday and Wednesday we practice in the middle section. This is the slowest section, in general it is a "stop and go" section, with tight corners connected by straight lines. This was Travis least favorite section, and both days we finished around 10th position.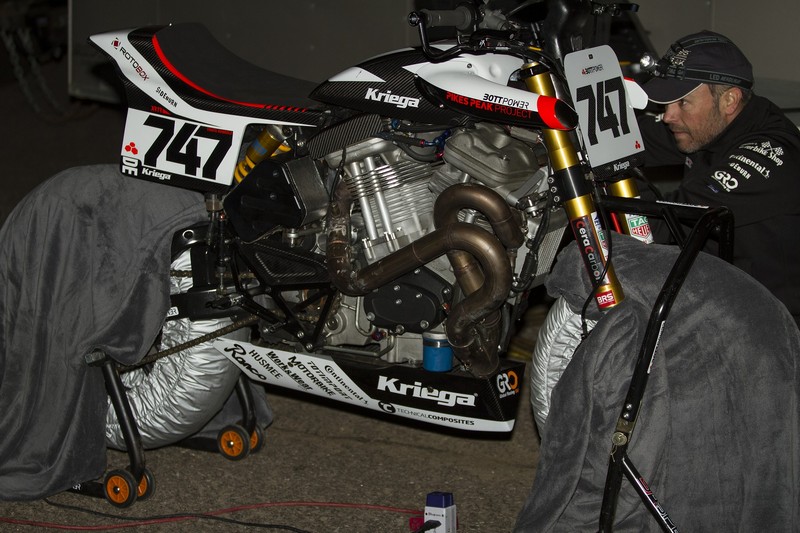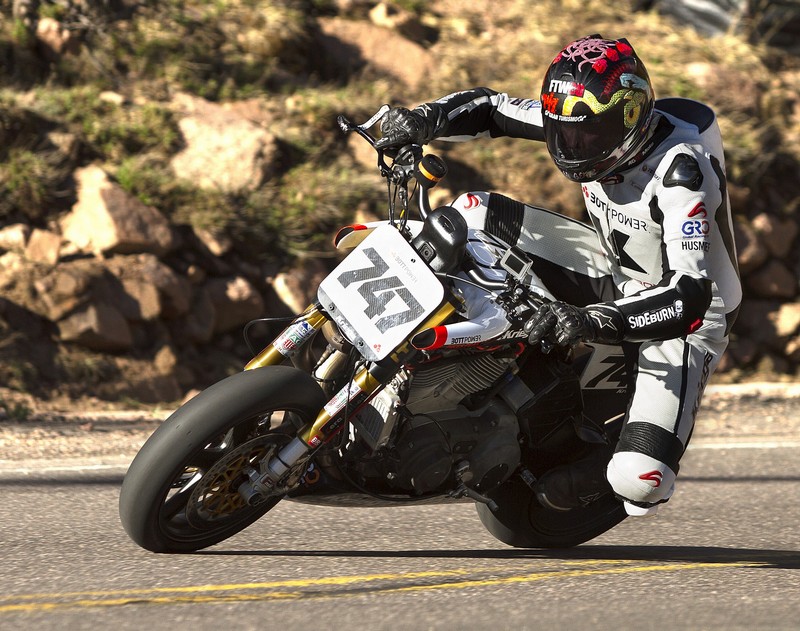 A very important thing was that the bike was running quite well in the altitude thanks to the system designed by IDS (Intelligent Design Solutions), one of our technical sponsors. Using a data acquisition system, in every run we recorded information about what the engine was doing and we emailed the information to IDS, which day by day helped us to improve the engine mapping.
On Wednesday we tested in the top section. In general, this section is quite fast and much more fluid than the middle section. The bike worked quite well despite being at more than 4000 meters (13000 feet) and Travis set the 4th better time in that practice. Up there it was quite cold and there was snow at the sides of the road, but even in those conditions the Continental slicks that we were using always worked really well.
On Friday we had the latest practice day in the bottom section, which is the fastest one and Travis favorite one. The day was very foggy. In the first run Travis took it easy to check the course (the asphalt was cold and a little bit wet), and then the practice was suspended due to the dense fog. So we didn't have the opportunity to make an "attack run" and we finished in 10th position. For sure that we could have had a much better result if the practice had not been canceled due to the fog.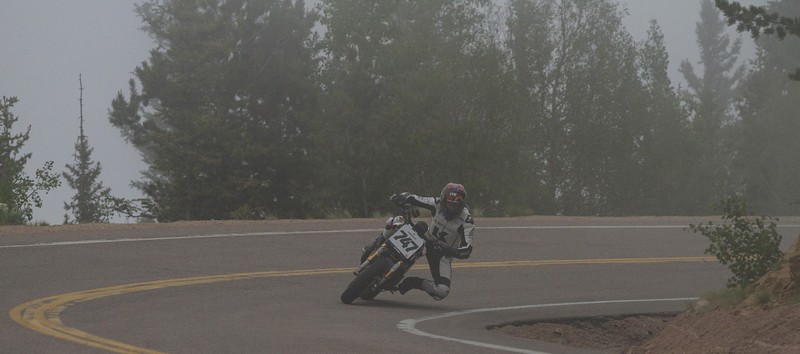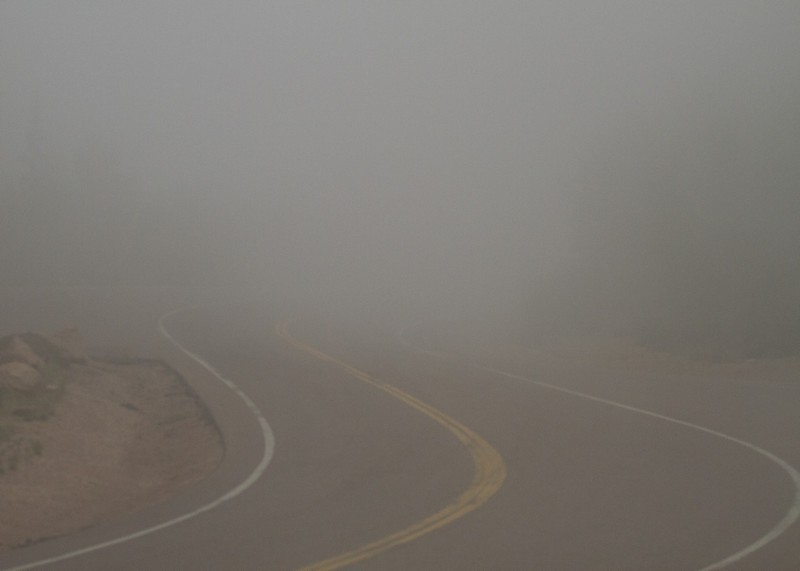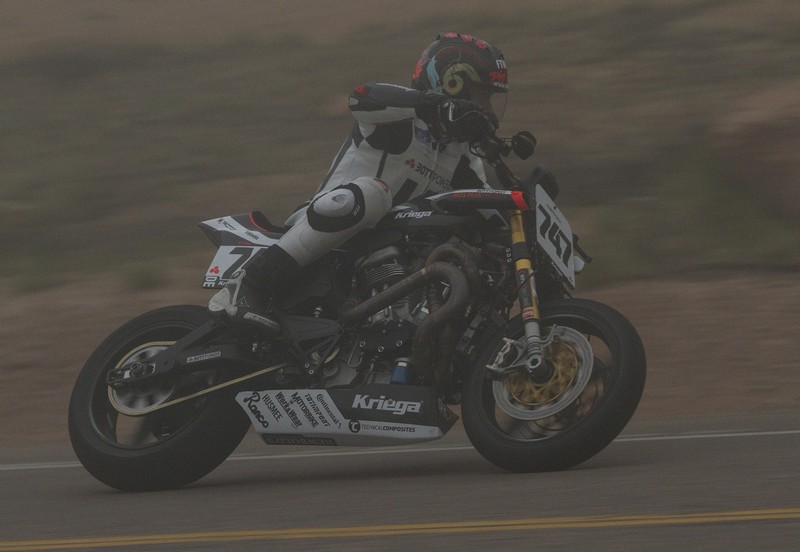 On Friday afternoon we had the Fan Fest, in Colorado Springs. The Fan Fest is a festival in which most of the Pikes Peak race vehicles are exposed. In addition, there are activities as Free Style jumps, etc. Every year a lot of public comes to the show, and this year there were around 35000 people. We were present and many people visited our tent asking about the bike. Travis signed many posters, it was a very pleasant experience. We even had the pleasure to meet with many Bottpower followers, who follow this blog and which knew perfectly our bike and our project. To all of them, thank you very much for come to visit us.
Finally Sunday arrived, the race day. There was a lot of tension and not too much work for the team. Just warm up the engine, mount the tyre warmers, adjust the tyre pressures, warm up the engine again, fill the fueltanks, switch on the GoPros… and cross our fingers.
The start moment arrived and once that Travis disappeared after the first corner, we only could watch a monitor with the section times, waiting for him to appear in each of the sections. The last one (around 3 minutes) was extremely long for me, until he finally appeared on the screen. He was in first position with a time of 10 minutes 28 seconds!.. there was a lot of happiness and hugs between the team members. We still had to wait for the 2 official KTMs and Bruno Langlois Kawasaki, that finally were faster than us (Chris Fillmore set a new race record), so finally we ended in the 4th place overall.
Even so, we were really happy. A very good result for a motorbike which was completely new and almost with no development time. Also it was our first time in the mountain. Fortunately Travis had a lot of experience in Pikes Peak and he did a smooth and clean race, without big moments.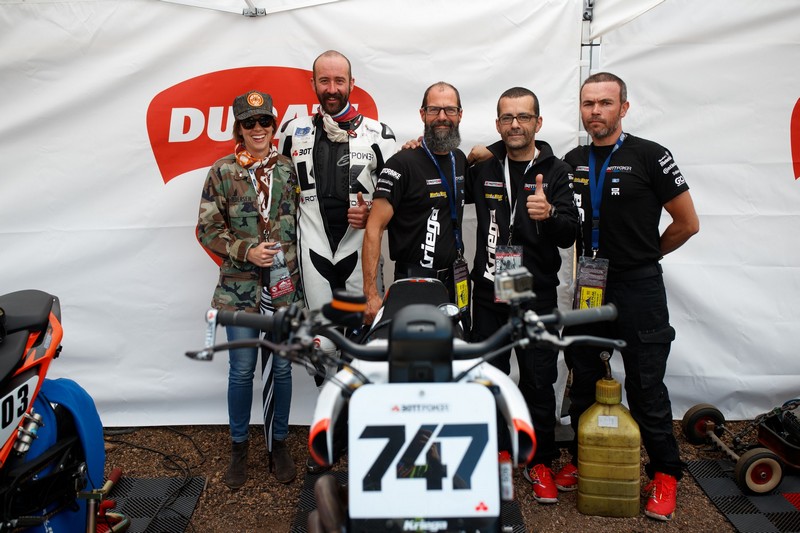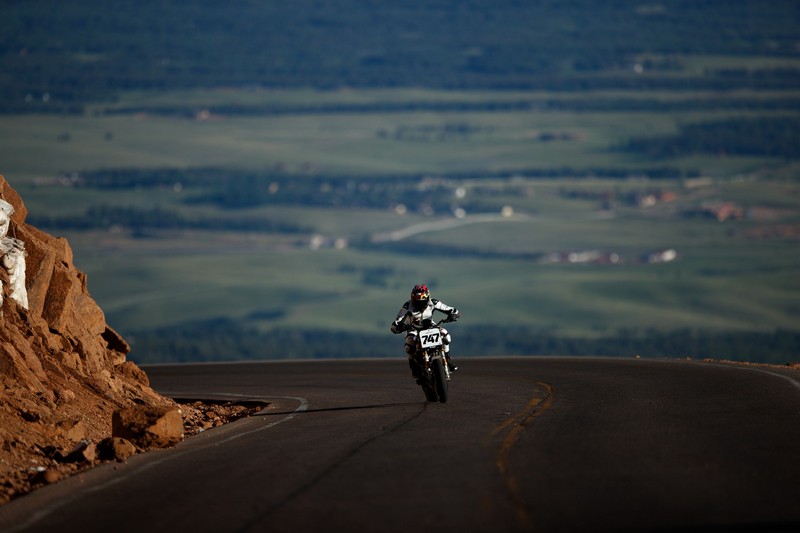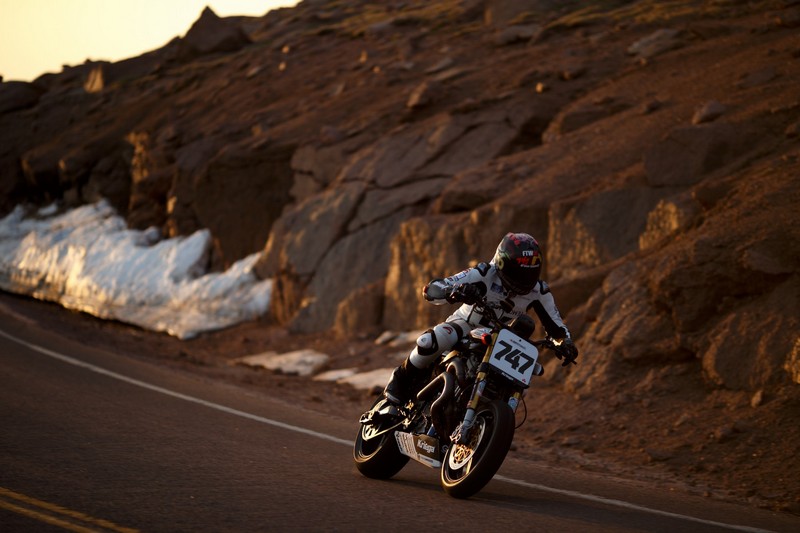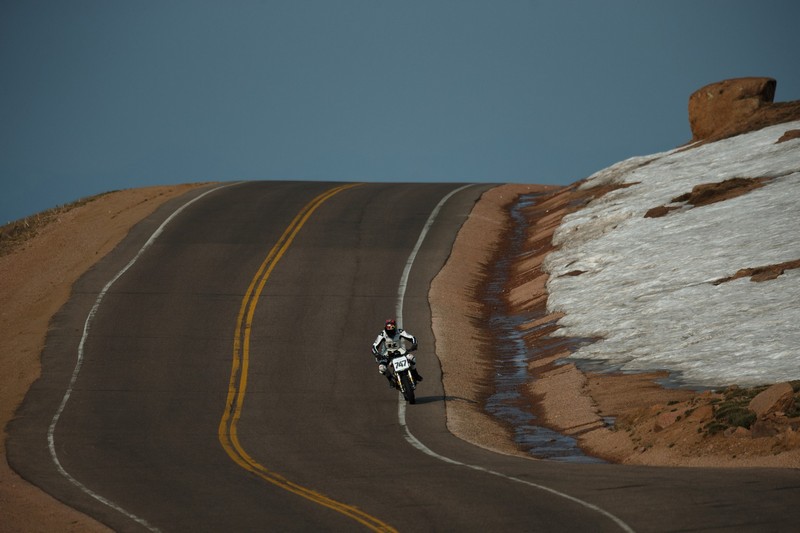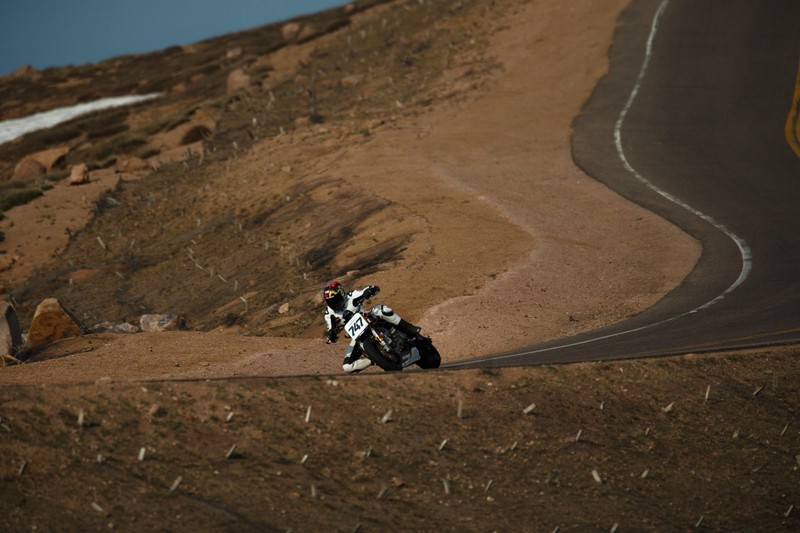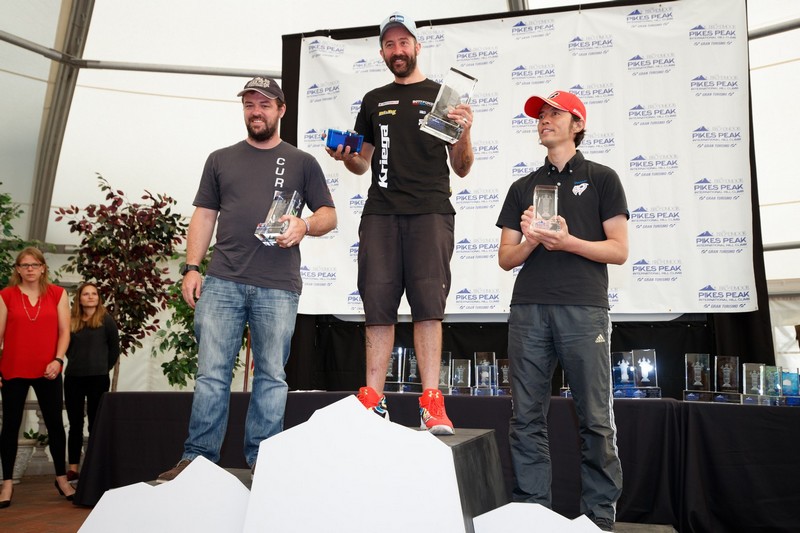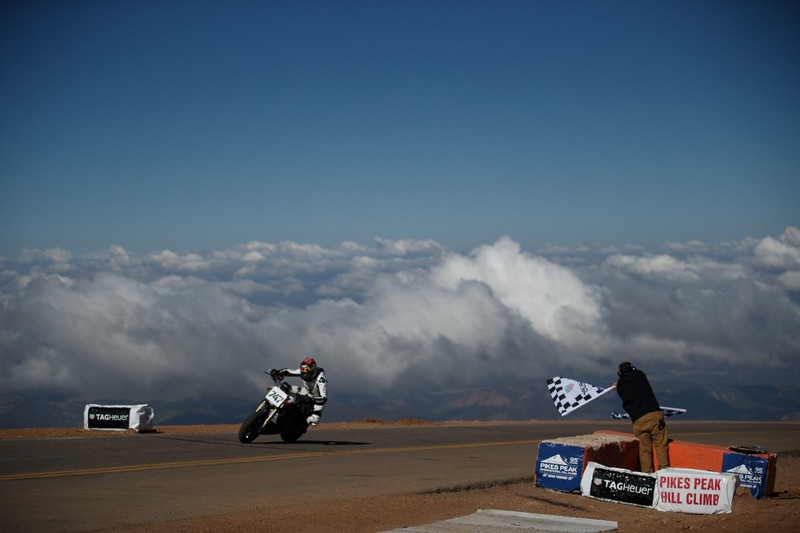 If you want to see more photos, please check our Flickr gallery.
This is what Travis said after the race: "I am very happy to have raced the BOTT XR1R to a big class win and 4th overall motorcycle up the mountain. We worked very hard through multiple challenges and minimal time testing and I am very proud of our finish. All the bikes finishing in front of us had not only factory support but much more practice both on the mountain and before the race so I feel that we are very glorious victors indeed!"
And here we have the on board video of the race run.
We are already thinking about coming back next year. Now we have almost one year to work on the bike, we would like to develop it and then try to improve this year's result.
Meanwhile, we still will write some more chapters of this series, talking about things that we didn't explain in previous chapters.
I want to dedicate this result to Peter Buedts and Andreas Kuehnle, two customers and friends who helped us to have the 2 Buell XBRR that allowed us to start this project. Without their help this wouldn't have been possible! 🙂
Here I am with Andreas, who came with us to experience first hand what Pikes Peak is about.
And of course, as always, we want to thank our sponsors: Kriega, Rotobox, CeraCarbon, Technical Composites, Continental Moto España, Global Racing Oil, Totimport, Derestricted, Husmee Studio Graphique, Sideburn Magazine, Motorbike Magazine, Newbold's Motorbike Shop, Intelligent Design Solutions (IDS), Team BRS / BRS Suspension Works, Work & Wear and Super-b batteries.
Photos by Jon Wallace and Larry Chen.