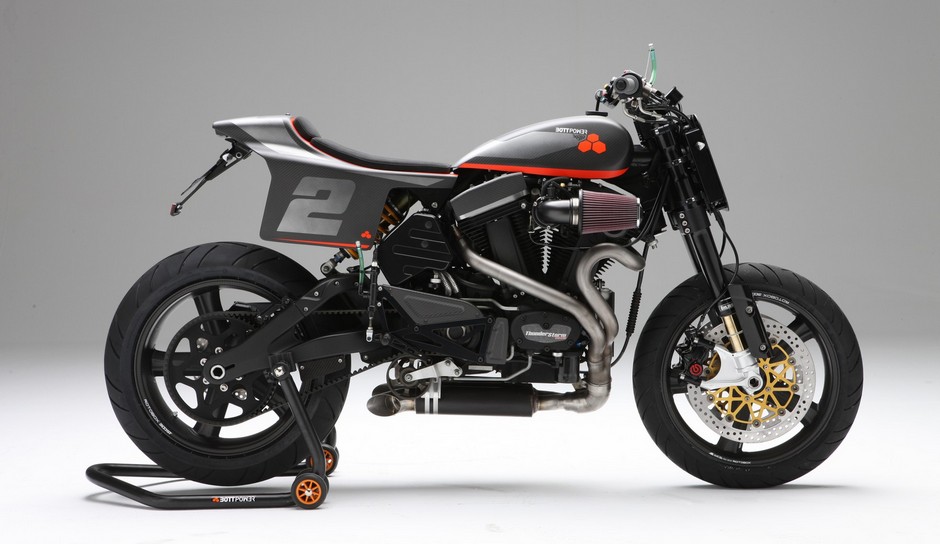 The Bott XR-1 is a sportbike with flattracker aesthetics built around a Buell XB12 donor bike.
The bike weights 179 kgs (20 kgs less than a Buell XB12 SS) and has 100 HP with lots of torque. Apart of the top fueltank, it has a secondary fueltank under the rear shock absorber, which allows a total fuel capacity of 11 liters (not bad!).
The XR1 chassis has been designed and built keeping the original Buell XB geometry, so it has the same behavior, improved by the weight reduction.
Frame stiffness has been calculated using Finite Element Analysis, and the design has been validated testing the bike on circuits with professional riders.
We can build a complete BOTT XR1 for you. We also sell a kit, so you can build your own motorbike if you want. We sell each part of the kit separately, so you can buy only those parts you are really interested in, and build your custom XR1, at your own taste.
PROJECT MILESTONES
The BOTT XR1 is a live project. We keep working on it, developing new parts and options, and improving the kit month after month. Here you have the most important moments since we started working on this project in 2011.
The BOTT XR1 project was launched in March 2011.
In April 2011 we showed the frame concept.
In July 2011, the bike was on its wheels.
In January 2012, we kept working on the first prototype.
In December 2012, the first unit was released.
In February 2013, the bike was tested on a track by a professional rider. Here you will find more photos of this test. And also there is a video.
In March 2013, Anthony West tested the bike on Valencia track.
In May 2013, we shipped the first kit, to a customer in Colorado, USA.
In June 2013, we developed new carbon fiber parts as an option for the kit.
In September 2014, we showed the advanced electronics we are developing for the BOTT XR1. This will be another option.
In July 2015, the XR1 was exposed in the Bike Shed in London and Paris.
In July 2015, we showed the new titanium frame we are developing as another option for the BOTT XR1.
The BOTT XR1 kit is modular and highly configurable. It is formed by several assemblies and different extras and special parts to upgrade it. This allows every customer to customize his motorbike at his own taste. In fact, every BOTT XR1 out there looks different.
These are the main assemblies:
UPGRADES:
These are special parts to make your XR1 even more special.
Engine
Air/oil cooled 1203cc Thunderstorm V-Twin, 1203 cm3 (it is possible to build it also with the 900 cc engine), 100 Horsepower at 6600 rpm, Torque 110 Nm at 6000 rpm.
Fuel system: 49 mm downdraft DDFI II fuel injection
Gearbox: 5-speed
Clutch: Wet, multi-plate, compensated
Final Drive: Belt
Frame
Steel central Spine Bottpower frame, with vibration isolation system.
Front Suspension: Showa inverted fork with adjustable compression damping, rebound damping and spring preload
Rear Suspension: Showa shock absorber
Front Brake: ZTL type brake, 375 mm stainless steel floating rotor, 6 piston caliper
Rear Brake: 240 mm stainless steel rotor, single piston floating caliper
Dimensions
Geometries are the same than the original Buell XB donor bike.
Weelbase: 52 in OR 1321 mm
Seat Height: 30.1 in OR 765 mm
Ground Clearance: 4.3 in OR 109 mm
Weight: 179 kgs (20 kgs less than the original Buell XB donor bike).
Fuel Capacity: 13 liters. The bike has a top fueltank and 2 secondary fueltanks. Original Buell fuelpump located in the left secondary fueltank.
Tyres: Front 120/70xZR17 and Rear 180/55xZR17
Some XR1's from all over the world, most of them built by their owners. Some are still not 100% finished:
Anthony West testing the bike at Valencia circuit:
Alex Martinez and Ramón Bellosta testing the bike at Albaida track:
Video of the first test we did with the BOTT XR1. Rider is Alex Martinez.
Music by EDSOL RECORDS and filming and editing by AGARRA AIRE.
Which Buell models does the kit work with?
The kit has been designed to work with Buells XB with long swingarm. Those ones are the Buell XB12SS, Buell Ulysses and Buell XB12TT.
It is possible to assembly the kit using a donor Buell XB with short swingarm, but then it would be necessary to change the swingarm, belt, shock and the oil lines that connect with the swingarm.
Which is your delivery time for a kit?
Normally it takes us around 6 weeks to prepare one kit.
Do you ship worldwide?
Yes, we ship our kits worldwide by UPS.
Customers must take care of shipping cost, plus import taxes (if any), etc.
Will the new bike be street legal?
Because the kit includes a new frame without VIN number, it will be necessary to register the bike to make it street legal and obtain a new license plate. This process is different in each country and must be carried out by the customer. We always give our customers our best support to do it (documents, information, etc).
Do you provide an assembly manual with the kit?
Yes, we will give you an assembly manual with the kit. We also give full support to our customers. During the assembly process you can ask us as many question as you need and we will do our best to help you through the process.
Which tools do I need to assembly a kit?
You can do it with basic tools. It is not necessary to weld or cut anything. The most complicated issue is to drill and thread a couple of M8 holes. That's it!
I don't want to assembly a bike. Can you sell me a finished BOTT XR1?
Yes, of course. In fact we prefer to sell complete bikes, because in this way we have total control over the bike quality and we can take care of every detail.
If you already have a donor Buell, we can do it using your bike. If you do not have it, we can find a donor bike for you, and assembly a fully customized bike at your taste.
What about the electronics, wiring, etc. Is it necessary to modify anything?
The kit has been designed to work with the original Buell wiring loom. You don't need to modify it.
If you want to add the Motogadget Chronoclassic display, we will provide an interface cable that plugs directly on the original wiring loom. Easy!